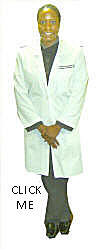 The Physician
Dr. Latasha Burgess is a board certified Family Physician. Dr. Burgess is a graduate of Spelman College and received her medical degree from Emory University. Dr. Burgess completed residency training at the State University of New York (SUNY) in Stony Brook, NY.
Dr. Burgess has worked in Fairburn and the south metro Atlanta area for several years, including previously providing medical care at the Community Medical Clinic in Palmetto, GA. Dr. Burgess is currently a staff physician at the following facilities:
Baptist Manor Retirement Home, Palmetto Fairburn Health Care Center, Fairburn Christian City, Union City

Come see what our practice has to offer you and your family.

Why come to personal touch? Not only because are we extremely competent, but also because we treat you with DIGNITY and RESPECT.
The Mission
Our mission at PERSONAL TOUCH MEDICAL CENTER is to provide exceptional medical care to each patient. Dr. Burgess and her staff offer disease management and disease preventative services in a warm and friendly environment.
Our medical services include, but are not limited to, the following:
Comprehensive Annual Physical Exam Women's Health / Annual Pap Smear Diabetes Screening and Management Hypertension Screening and Management Cholesterol Screening and Management Tobacco Cessation
Elder Care/ Geriatric Care

We have a hands on approach to your medical needs.