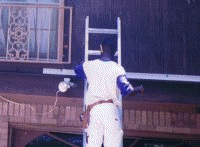 Our services include:
Interior and Exterior Painting
Fence and Deck Staining
Pressure Washing
Exterior Siding & Trim
3 Year Warranty (Exterior Jobs)
Wallpaper Removal

All of our work is fully guaranteed. We employ only full-time, professional painters; so you'll be assured the job is done right the first time. If for some reason you have a problem, we'll fix it!

So, give Genesis Home Care Company a call today! Or, if you prefer, get a free

Genesis Home Care Company is a family owned business that has been painting in and around the Washington D.C. area and in the state of Georgia for over 15 years.
Specializing in both indoor and outdoor applications, we at Genesis Home Care Company are more than just a painting company. We offer a wide range of services. Click here for a complete listing of services!
"Where quality and detail is not an extra charge"
Genesis Home Care Company can fulfill all your interior and exterior custom, commercial and residential painting and home improvement needs. We've been serving the
Washington D.C. area, and Georgia For Over 15 Years with prompt and courteous service
We ask all of our clients to ensure that the workspace is organized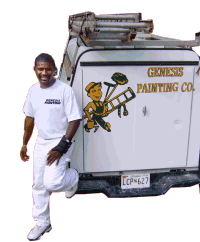 prior to our arrival so that our crews can maximize their use of time while at the job site. We do not empty cabinets; take down pictures, move china or any other items that may break in the process. If you absolutely need assistance with heavy furniture we can help, however, will not be liable if something breaks in the process. Contact us today for more information.
Call Today 301-526-4235 or 678-437-4008

Licensed and insured, you can be confident you are dealing with a professional company from the initial prep-work through to the end of the job, including complete daily clean up.