Door Side Armrest are now available for your car, van or truck!

Vehicle manufacturers seemed to have forgotten we have TWO ARMS. We didnít forget.

Having a comfortable place for the driver or passenger to rest their arm makes this device extremely useful. The Relax and Ride armrest are portable and may be moved from one vehicle to another.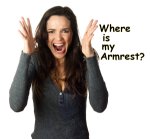 But if you are married you had better buy two, because your spouse will not want hers to be moved.

On long trips passengers look for somewhere to place their right hand. If the vehicle has a handle to grab above the door near the windshield they will grab that to rest their arm. This action actually is dangerous. This action blocks the view of the of the handle passenger side rear view mirror from the driver.

Getting a Relax and Ride Armrest for the passenger side my save you from having an accident. Donít just buy one. Buy two, you know you not only want them, you need them.