Vincent A. Robinson sr. was born August 18, 1972 in Bankhead Courts, apartments in Atlanta, Georgia. Bankhead Courts at the time was notorious for pimps, prostitutes, gangsters, drug dealers and persons of ill repute.
Vincent had no role models and was influenced by his environment. He purchased a New Cadillac at 13 from drug profits. His life choices lead him to a personal tragedy. he was shot point blank with a street sweeper shotgun.
The resulting blast reduced both legs to a mass of jelly causing him to be a double amputee. But then GOD entered his life.
CLICK HERE to see the video
T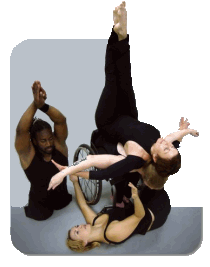 oday Vincent Robinson is a motivational speaker, a child advocate, a professional dancer (click here to see) and an actor.
Vincent plays basketball and tennis. Vincent could be a cornucopia of sorrow but he is an ebullient man of color.
Vincent message is one that is guaranteed to help both rowdy students to change their ways AND those with disabilities to quit feeling sorry for themselves and get moving.
check us out on the following sites below