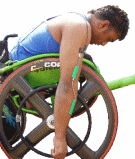 While sport has value in everyone's life, it is even more important in the life of a person with a disability. This is because of the rehabilitative influence sport can have not only on the physical body but also on rehabilitating people with a disability into society. Furthermore, sport teaches independence. Nowadays, people with a disability participate in high performance as well as in competitive and recreational sport.
The number of people with disabilities involved in sport and physical recreation is steadily increasing around the world with organized sports for athletes with disabilities divided into three main disability groups, sports for the deaf, sports for persons with physical disabilities, and sports for persons with intellectual disabilities.
From the late 1980s, organizations began to include athletes with disabilities in sporting events such as the Olympic Games and Commonwealth Games. However, many sports are practiced by persons with a disability outside the formal sports movements, for example: Wheelchair basketball, Wheelchair dancing, Weightlifting, Swimming, and many other sporting activities you can join if you are mentally or physical disabled.
Major disability sporting events include:
Paralympic Games - A multi-sport event for athletes with physical, mental and sensorial disabilities. This includes mobility disabilities, amputees, visual disabilities and those with cerebral palsy. The Paralympic Games are held every four years, following the Olympic Games, and are governed by the International Paralympic Committee.
Deaflympics - The Summer and Winter Deaflympics are among the world's fastest growing sports events.
Special Olympics - The global Special Olympics movement got its start on 20 July 1968, when the First International Special Olympics Games were held at Soldier Field, Chicago, Illinois, USA. But the concept of Special Olympics was born much earlier, when Eunice Kennedy Shriver started a day camp for people with intellectual disabilities at her home in 1962.
Disability Commonwealth Games - For the first time in the Games history a number of Para-Sports were included in a fully inclusive Sports Program in Manchester 2002 when 20 countries sent both male and female elite athletes with a disability to compete in 10 events across 5 different Para-Sports; Athletics, Lawn Bowls, Swimming, Table Tennis and Weightlifting. ôThe Commonwealth has always said it wants to play a lead role in social issues,ö says Steadward, who is president of the International paralympic Committee. ôWhat better way than by becoming the first major sports competition to integrate athletes with disabilities?ö