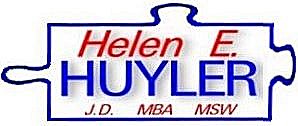 2141 Abby Lane N. E. Atlanta, GA. 30345-3516 phone 404-325-3917 fax 404-633-3503

---




March 17, 1992;

Ms. Helen E. Huyler
2141 Abby Lane, NE
Atlanta, Georgia 30345
Dear Ms. Huyler:

I want you to know how much we appreciated your presentation at
the Georgia Conference on Social Welfare's Annual meeting.

Feedback from the Session dealing with Social Work Ethics was
very positive. Thank you for taking the time to make it so.
The Conference theme "Preserving Families and Communities
Through Creative Services" was certainly enhanced by your
participation and presentation.

Again thank you for helping to make our Conference such a success.
Sincerely
Robert H. Weaver
Executive Director
RHW:rh
---


September 9, 1999;

Ms. Helen E. Huyler
2141 Abby Lane, NE
Atlanta, Georgia 30345
Dear Ms. Huyler:

Your help was essential to the our success.
You were great.
I will recommend you to all,
Willliam Lambert
CEO
---



August 9, 1999;

Ms. Helen E. Huyler
2141 Abby Lane, NE
Atlanta, Georgia 30345
Dear Ms. Huyler:

Your work at our Cultural Diversity workshop
was well appreciated. You did a great job.


Dr. Deloris Bryant-Booker
---

September l l, 1997 Helen E. Huyler
2141 Abby lane N. E.
Atlanta, Georgia 30345-3516
Dear Helen:
Thank you again for facilitating our Race Relations planning session. I especially
appreciate your response since everything was on such short notice. For
information purposes, I have attached the document as printed. I believe this will
continue to be a work in progress as we continue to wrestle with accepting our
God given differences.
I have also enclosed payment as agreed. Thank you so much for the reduced
rate.*In the future we hope to be able to accommodate your market rate fees as
we continue to have need of your various skills and professional services.
Looking forward to working more with you in the future.
Warm regards, Warren Logan, Jr. President
---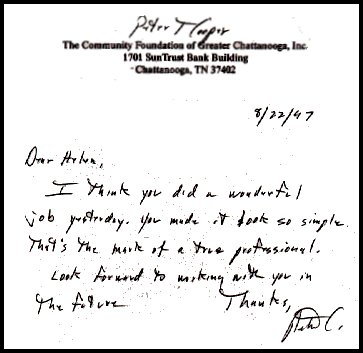 The Company | Client List | E-Mail | Why Huyler | Message Board |