THE MAURY SHOW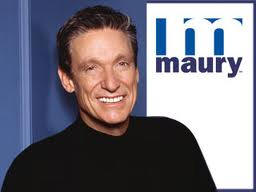 I watch the show just once.

I could not believe what I saw. A young woman was on the show for the 12th time. the previous 11 times the man she said was the father of her child was proven not to be by DNA testing. A tape of her previous appearances was shown. She was arrogantly screaming, "show me the money", "child support". Before the results of the 12th test was announced she said, "it's not about money, I just want to my daughter to know her father if she walks past him in the mall" (with tears in her eyes)
The test revealed the 12th guy was not the father. She screamed and cried. The host, MAURY, said, supportively, "we will help you find the real father of your baby." At which point she replied
"I don't know who else to test"
My thoughts are this.
I cannot tell any young woman to be abstinent. I know the pressures that exist in the world today. I can say or ask that all woman wait at least 30 days between new sexual participants
IT IS AN INDICTMENT OF YOU ABILITY TO THINK IF YOU HAVE A CHILD AND YOU HAVE NO IDEA WHO THE FATHER IS...(expletive deleted)